Antigonish NS - The U SPORTS No. 9 ranked STFX Women earned a measure of revenge with a 45-17 win at home against the UPEI Panthers on Sunday afternoon in Antigonish. The Panthers had bested the X-Women in the first game of the season.
The game was closer than the scoreboard made it seem, however, with both teams causing and creating a number of big hits and takeaways.
StFX got the home crowd going early with a big run from Hannah Ellis (Halifax, NS) eventually leading to a try from Maddie Harroun (Halifax, NS) in close.
Ellis and Harroun were also involved in the second STFX try 16 minutes later. With X deep in the UPEI zone, Ellis got the ball about 10 yards out before passing to Harroun, who handed it off to Sarah Hoerig (Whitby, ON) who touched it down for the score. Dani Franada (Grand Prairie, AB) kicked the conversion to give the X-Women an early 12-0 lead.
UPEI made it a game six minutes later with Brinten Comeau (Halifax, NS) making a superb run before handing it off to Annika Wadlegger (Clearwater, BC) for the score, an unconverted try.
STFX extended their lead late in the half, with a heads-up short run in injury time from Maddy Ross (Coldbrook, NS) and a Franada conversion, bringing the score to 19-5 at halftime in favour of the home squad.
In the second half, it was more of the same from both teams, with collisions and big tackles you could hear at the top of STFX Stadium.
After knocking on the doorstep, a run from X's Ella-Skye Fodor (St. Anne Bellevue, QC) led to a try from Ellis, who avoided two tacklers before getting the score, with Franada converting.
Six minutes later, Hoerig punched in a close try off a pass from Harroun with Franada again making the conversion.
Comeau got UPEI on the board again at the 63rd minute mark, this time with a push though several defenders before hitting pay dirt, bring the score to 33-10 for the X-Women.
Katherine Culligan (Halifax, NS) scored for X after an interception and long carry from Annie McMullon (Rothesay,NB) lead to a run from Claudia Fulton (Aylesford, NS), who handed it off to Culligan for the five points, followed by another Franada conversion.
UPEI got one back late with Kendal Brooks (Penticton,BC) landing a try in injury time, with Mia Fradsham (Marshfield, PEI) converting, but X followed up with the same when Dani Franada created a chance for herself with a kick and grabbed the loose ball away from the Panthers defenders across the try line. Franada also converted, bringing the final score of the game to 45-17.
X-Women head coach Mike Cavanagh said UPEI is a physical team and his team played the same way, noting "We moved the ball very well and had our opportunities."
"Our set pieces, scrums and lineouts were very dominant and it paid off for us in the end," Cavanagh concluded, as he also gave credit to Harroun and Ellis for their efforts in the game, as well as Franada.
Ellis received Subway Player of the Game honours for the X-Women while Comeau was named UPEI's player of the game.
STFX now moves to 2-2 on the season and looks to improve past the .500 mark next week when they take on the Saint Mary's Huskies Wednesday night in Halifax. For UPEI, who also sit 2-2, they will host the first place Acadia Axewomen (4-0) Saturday afternoon in Charlottetown.
The game marked the final regular season home game for the X-Women. Prior to the match they recognized their fourth and fifth year senior student-athletes, including Katherine Brennan, Chloe Cullen, Hannah Ellis, Kate Flanagan, Danielle Franada, Claudia Fulton, Maddie Harroun, Sarah Hoerig, Courtney Maines and Tasha McKenzie.
-30-
Courtesy Matt Draper, STFX Sports Information

SCORING SUMMARY
UPEI 5-12: 17
STFX 19-26: 45
1st HALF
STFX – Maddie Harroun try, 1st minute
STFX – Sarah Hoerig try, 17th minute (Danielle Franada convert)
UPEI – Annika Wadlegger try, 23rd minute
STFX – Maddy Ross try, 40th minute (Danielle Franada convert)
2nd HALF
STFX – Hannah Ellis try, 52nd minute (Danielle Franada convert)
STFX – Sarah Hoerig try, 58th minute (Danielle Franada convert)
UPEI – Brinten Comeau try, 63rd minute
STFX – Katherine Culligan try, 77th minute (Danielle Franada convert)
UPEI – Kendall Brooks try, 80th minute (Mia Fradsham convert)
STFX – Danielle Franada try, 80th minute
Players of the Game:
UPEI – Brinten Comeau (Halifax, NS)
STFX – Hannah Ellis (Halifax, NS)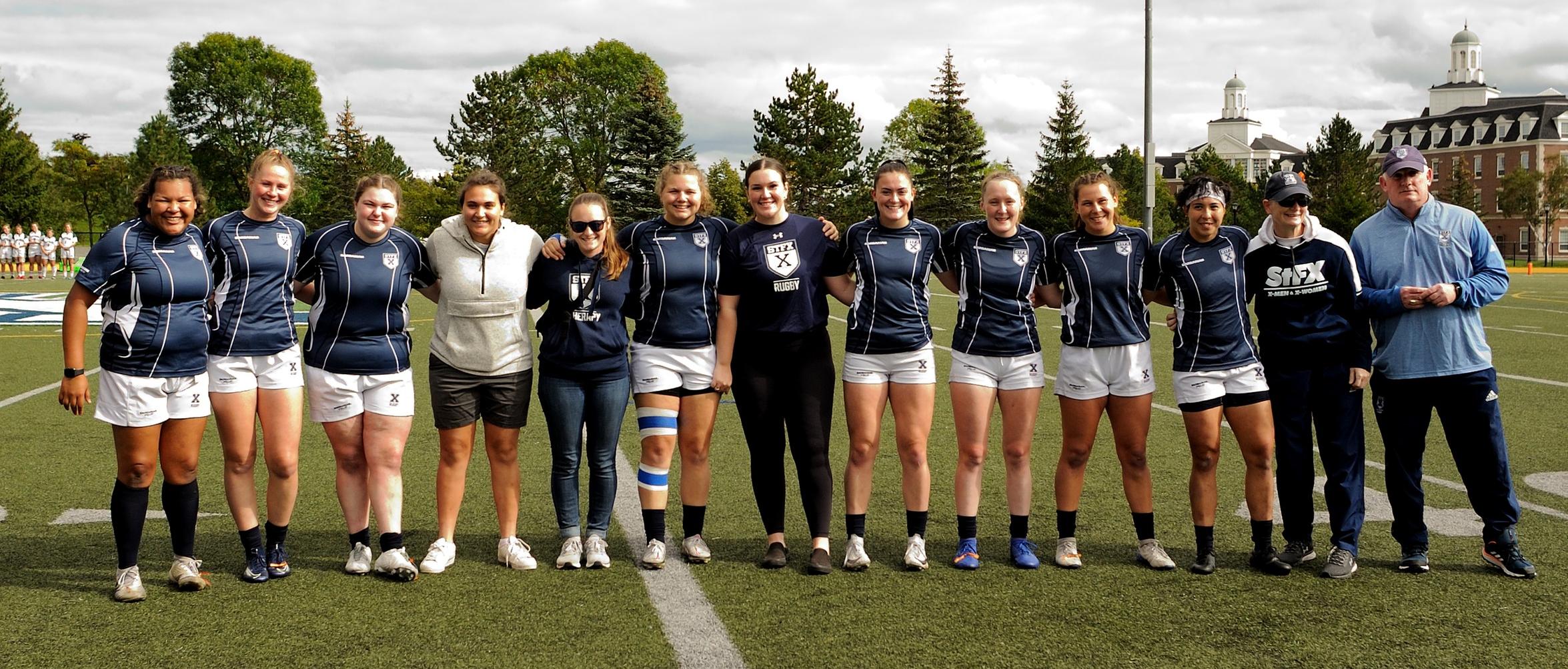 X-Women Rugby 4th and 5th year student-athletes were recognized prior to the game.